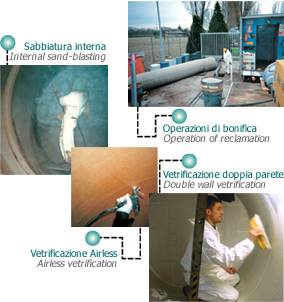 Reclamation
This operation is absolutely necessary for the cleaning and it precedes each activity of control, of restoration through vitrification or of removal.
It's the most delicate stage as it requires the respect of all the safety rules.
The teams are made of three operators, the foreman is also responsible for the safety on the yard.
The whole equipment is specifically for the use in presence of toxic vapours and explosive gases, the means of transport are authorised as by law enacted.
For each intervention of reclamation we issue the respective card with the relation of the works which have been carried out and the conditions of the tanks.
Sand-blasting
a fter the reclamation, this type of intervention, even if optional, guarantees the good result of the vitrification in terms of adherence and therefore in endurance, as it prepares the surface which has to be treated to a better seize of the resins. In fact, it doesn't only remove eventual and pre-existent residual products, but it smoothes the surface and in the same time makes it uniform, ready to by covered.
These operations take place by using specific equipment for the internal sand-blasting of the tanks (or of the cement tanks) and sands with the minimum thickness in order to guarantee the best result.
Restoration
In these specialisation levels ECOPETROL Ltd. has achieved qualified experience; there exist different ways of restoration of the damaged or pierced tank which are applied following different ways of realisation:
Traditional method with rollers this method consists in the utilisation of special fabrics in fibre glass of 1050g/m2, impregnated with particular iso-ophtalic resins till the obtaining of a thickness from 2.5 mm to 4 mm.

Airless vitrification consists in the spray application, through AIRLESS equipment, of a coat of epoxydic resin and a coat of antistatic covering on the whole surface to treat till the obtaining of a thickness of max. 4 mm. The utilised products are suitable for containing any kind of hydrocarbon on sale at the present.

Double wall covering After having carried out the usual operation of cleaning, we'll apply a coat of a clinging product followed by knotty aluminium through a biadhesive tape at the inside of the tank. The covering will be completed utilising an AIRLESS system followed by a spray application of epoxydic resin on the aluminium and a final touch of antistatic product. This system offers the possibility to create a second surface at the inside of the tank, especially if the plate is damaged. This system guarantees the re-utilisation of the restored tank respecting the laws 22/97 and 246 from 05/24/99.
At the end of each kind of covering we'll issue a valid certificate of guarantee.