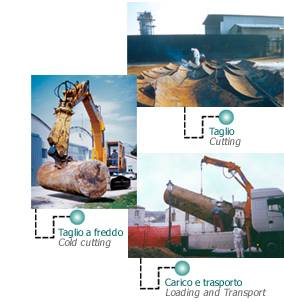 The disused tanks are subject to the law concerning recoverable waste materials and therefore they need special authorisations for their transport and stockage.
Respecting the operative procedures (API - American Petroleum Institute rules), Ecopetrol Ltd. owns motor-vehicles according to law, equipped with cranes and kits for the cut with torch, made up by a device for the measure of the explosiveness, an air extractor with anti-deflagrating engine and small shovels against sparks, a generator of 30 kW/h; a compressor of 500 litres; cut machines with a velocity of 2 metres per minute with a sheet of 5,7 mm. Furthermore, in case of big tanks, our firm owns hydraulic shears for the cold cut.
After having cut the tank, in accordance with the requests of the refineries (1 m x 1 m), the sheet will be transported and stored in our authorised storage and then sent to foundry through a firm which is authorised by the Local Authority for the collection of secondary raw materials.